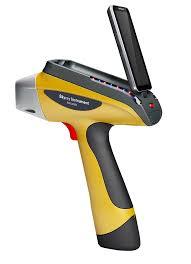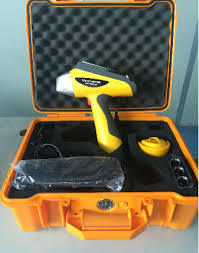 Product Specifications
1 ~ 60 seconds (a second report results)

1.7 Kilograms (kg)
Trade Information
as per requirement Per Day

1 Week

Yes

Free samples are available

Asia

All India
Product Description
Handheld Spectrometer has been specifically designed to be used for elemental analysis of various metal samples with high accuracy. It is known to have compact structural configuration with tough thermoplastic body and trigger-based operation. This spectrometer is capable of both quantifying & qualifying wide range of metals. It is known to work on principle of using high quality X-ray fluorescence and SDD detector for ensuring excellent performance. Handheld Spectrometer offered by us also has wide backlit digital screen for displaying elemental values. It is completely suitable to be used for archaeometry, research & training, and environmental & soil screening purposes.
Analytical Method

Energy dispersive X ray fluorescence analytical method

Elements Measuring range

Automic number from 12 to 92[elements from magnesium(Mg) to uranium(U)] can be measured

Simultaneous detector elements

Simultaneous analysis 40 elements

Microcomputer system

Customized system:
CPU: 1G
System memory: 1G
Extended stored maximum support: 32G
Standard: 4G for mass storage data

The content range

ppm ~ 99.99%

The detection time

1 ~ 60 seconds (a second report results)

A built-in system

GPS, Wi-Fi, Bluetooth

Power supply

Rechargeable lithium battery, Standard is 9000mAh, sustainable work up to 12 hours, optional is 27000mAh superbattery with wide voltage 110V - 220V universal adapter for recharging power supply

Detection Objective

Solid, Liquid, Powder

Detector

SDD detector or Fast-SDD detector(optional)

Detector resolution

Minimum can reach 128eV

The excitation source

50KV/200uA-silver target end window integrature X ray tube and high voltage power supply

Collimator and filter

Collimator diameters are 4.00mm and 2.0mm, 6 kinds of filters with automatic switching functions

Video system

500W pixel high resolution camera

Display System

Brand new 5 inch transflective LCD touch screen, the resolution is 1080 x 720

Detection limit

The minimum detection limits at 1 ~ 500 ppm

Safety

Multiple safety protection:
No tests
No radiation
Radiation levels at work are far below the international safety standards, and has no sample telemetry
Automatic shut X light tube function.
Standard radiation shields
Thickened wall alloy test instrument

Specialty

Ore special edition analysis software, using intelligent one key test

Convenience of application

Key intelligent matching the best curve that no need to select curve

Data transmission

Digital multi-channel technology
SPI data transmission
Quick analysis
The high count rate
Waterproof mini USB and can be connected with a desktop computer

Operating ambient humidity

<90%

Operating environmental temperature

-20oC to +50oC

Instrument dimension

244mm(Length)X 90mm (Width)X 330mm (Height)

Instrument weight

1.7 KG

Intelligent warning signals indicator system

Green light means power on
Red flashing meanse Testing
Yellow flashing meanse the Problems


Accessories

Three-military protection box is compression
Waterproof and shock absorption
Universal charger and car charger
4G SD memory card and card reader
Two lithium battery and charger
PDA accessories
Radiation shield
Optional accessories:
The large battery
Seat type test support
Bluetooth printer
Mill
Manual pressure machine and other options can to choosen....
ASHLYN CHEMUNNOOR INSTRUMENTS PVT. LTD.
Other Products in 'Elemental Analyser Spectrometer' category